Ramsey and I adopted Mollie, a Welsh Pembroke Corgi from a friend who couldn't keep a dog anymore because of her landlord. Mollie used to be one of my clients when I was a dog trainer. I loved Mollie so much, I told her owner if she ever had to get rid of Mollie I would take her in a heartbeat. That was a year ago. And now here we are...proud parents of Mollie the little Corgi.
Mollie and Sophie. Mollie was poorly socialized as a puppy. We are trying to socialize her with human beings and other dogs at the dog park. You can see she's giving Sophie the eye.
Sophie devouring a new toy courtesy of Mollie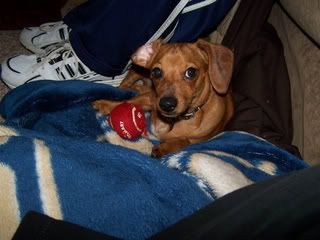 Sophie and the new doggy gate. Why doesn't she crawl under?
She knows!